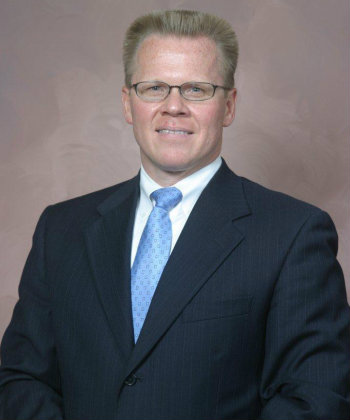 J. Edward Wilkinson, D.B.A., LL.M.
President, Chief Operating Officer
Personal Life
"Without tradition, our lives would be as shaky as a fiddler on the roof," says Tevye in the opening number. Teyve's statement is what Ed had in mind when he coined the tagline, "Farmers Bank - An Old tradition for a New Generation."
While his childhood friends and classmates often claimed famous people to be their heroes, Ed's heroes were always his parents. Ed is the son of Elizabeth "Betty" Wilkinson and the late Means Wilkinson - a fact for which he remains forever thankful. Ed met his wife and best friend of 30+ years, the former LaDonna Stone, while training to fulfill his dream of becoming a pilot. He earned his aviator wings and got a lot more out of this experience. They have one son, Attorney Wm. Daniel Wilkinson.
Carrying on the family tradition of hard work and success, Ed seems to exceed the limitations of the 24-hour day. As a community banker, former state legislator, and US Navy veteran, he serves and fights for honest industry, the rule of law, and freedom.
Community Banker
Pursuing his vocational calling, Ed became a 3rd generation Farmers Banker with nearly 40 years (since 1983) executive/board leadership. Rising through the ranks, he has served the bank in virtually every capacity. Now he chiefly focuses on lending, financial management, asset/liability management, liquidity, strategic planning, budgeting, and developing the 4th generation of Wilkinsons to become Farmers Bankers. Ed was elected Wilkinson Banking Corporation CEO 1986 and Farmers Bank President 1994, the 5th Wilkinson to serve in this capacity. Ed's banking acumen helped lead his family business from $25 million in total resources with four locations to nearly $300 million in resources with 11 locations throughout western Arkansas. His locus at Farmers Bank empowers him to be an integral part of Sebastian and Scott County's economic expansion. It enables him to fulfill the bank's commitment to serving the financial needs of individuals, farmers, cattlemen/women, and small business owners, particularly when no one else will.

Scholar/Practitioner
At Greenwood High School, Ed excelled both academically and athletically. He was an officer in the FFA and member of Beta Club. He as on the varsity track, baseball, and football teams. His class of 1979 elected him "Most Athletic" in "Who's Who" and the Bulldog football team elected him captain. Succeeding high school, Ed satisfied his academic curiosity via four earned collegiate degrees in business and in law and by completing three advanced professional curriculums in banking and leadership.
Following family tradition, Ed became a 3rd generation (4th of four siblings) University of Arkansas graduate, earning a BSBA, Finance & Banking, and MBA. While attending the U of A, he followed the trend set by his father and continued by his older brother by becoming a brother of the Lambda Chi Alpha Fraternity. Years later, the active brothers of Lambda Chi elected Ed "2019 Alumnus of the Year." For his significant and sustained giving of time and resources to his alma mater, Ed was inducted into the U of A "Towers of Old Main." He served 6 years on the national Board of Directors of the U of A Alumni Association and presently serves on its Chancellor's Society, Board of Advisors, and Campaign Arkansas.
Ed fine-tuned his banking knowledge through SMU's Southwestern Graduate School of Banking and LSU's Professional Master of Banking curriculum. Additionally, he completed an executive education program at John F. Kennedy School of Government, Harvard University. Ed subsequently earned a Doctor of Business Administration (DBA) from Walden University, College of Management and Technology. Using the conceptual framework learned at Harvard, his doctoral study was "Credit Strategies for Small and Medium-Sized Enterprises Within a Changing Environment." Ed earned his Master of Laws (LL.M.), i.e., Legum Magister, from the renowned University of Liverpool (UK) School of Law focusing on International Business Law. His dissertation, entitled "Anti-Money Laundering Regime: A Foundation for Developing Countries' Anti-Corruption Framework," was dedicated to challenging all those facing an ethical dilemma in public service to not simply choose what is "right," but to choose what is "more right." It is his hope that this work will inspire leaders of all nations, particularly developing countries, to join him in the cause for good governance and global business ethics.
Ed is a member of the International Bar Association and the Independent Community Bankers Association of America. He serves on the Arkansas Community Bankers Association Board of Directors and Executive Committee.

US Navy Veteran (Commander)
At the onset of Operation Desert Shield/Desert Storm, Ed followed family tradition by entering into US Naval service. His first assignment was at sea aboard the USS Holland, a submarine tender in north Pacific home ported in Guam. He later served as a Company Commander, Logistics Officer, Operations Officer, and Executive Officer for Seabee and Cargo Handling Battalions. He qualified in both Surface Warfare and Seabee Combat Warfare. Throughout his career, he was awarded a total of 30 medals and ribbons, including 2 Exceptional Service Medals, 2 Meritorious Service Medals, 6 Commendation Medals, 6 Achievement Medals, 4 Battle E Ribbons, 2 National Defense Medal, Global War on Terrorism Expeditionary Medal and Service Medal, Voluntary Service Medal, 2 Overseas Service Ribbons, Naval Reserve Medal, Expert Pistol Shot Medal, and Expert Rifleman Medal.
When the US was attacked on September 11, 2001, Ed was on duty at US Navy Expeditionary Logistics Support Force (NAVELSF) Command HQ, Williamsburg, VA. He flew home, packed his seabag, kissed his family goodbye, and was on a flight to the Persian Gulf to report to the Commander, Task Force FIVE THREE for duty. During the Global War on Terrorism, Ed planned and executed 30 operations in direct support of Operations Iraqi and Enduring Freedom. He served as US Navy 5th Fleet Watch Commander in support of operations in Iraq and Afghanistan. Ed served in-theatre in the Middle East as Commanding Officer, Naval Support Activities detachment, Bahrain.
Ed's military education and training included graduating from the US Navy Supply Corps School, Athens, GA, where the faculty selected him to receive the "Supply Corps Association Leadership Award." He subsequently completed the US Marine Corps Expeditionary Warfare Staff Planning curriculum, graduated from the US Air Force Command and Staff College, and completed the US Navy War College Prospective Executive Officer (PXO) course.
Ed is a Life Member of American Legion Post 8 in Charleston and a Life Member of Harris/Hannah Veterans of Foreign War (VFW) Post in Greenwood. He is a member of the Military Officers' Association of America and the Army-Navy Club, Washington D.C.

Elected Public Servant
Ed grew up believing that holding elected office represented a sacred public trust. His late father served in the Arkansas legislature and was Speaker of the House 1941-1942. Once again, following family tradition Ed was elected to serve in the Arkansas legislature. He served 16 years (1994-2010), including 6 years in House of Representatives and 10 years in Senate, the maximum allowed by Arkansas term limits.
Ed dove into the work of the House Judiciary Committee and the Insurance and Commerce Committee. He distinguished himself as Chair of House Banking Committee where he worked closely with the Arkansas Bankers Association to replace Arkansas' hodgepodge of banking laws with the Arkansas Banking Code of 1997. He spent14 years on the Legislative Joint Budget Committee, which debates appropriation bills and budget proposals submitted by the General Assembly. During his tenure in the Senate, Ed continued his work on the Senate Judiciary Committee and served on the State Agencies Committee. As long-time Chair of powerful Senate Judiciary Committee, Ed was affectionately known as "Mr. Chairman" throughout the capital. He was a strong advocate for the rule of law, particularly the 14th Amendment – equal justice under law. He was perhaps most admired for his staunch support for the legal rights of the least of those in our society, particularly nursing home residents.
The Arkansas Judicial Council awarded Ed the "First Branch Award" for his outstanding service in providing improvement to the administration of justice in Arkansas. As a legislative leader, Ed always searched for common ground. For instance, the Arkansas State Police Association presented Ed with the "Distinguished Service Award" and the National Rifle Association bestowed upon him the "Defender of Freedom Award" for his legislation to conciliate both law enforcement and gun rights advocates. In his final session, the Senate elected him assistant President Pro Tempore. Ed worked tirelessly on behalf of his district during legislative sessions. During the interims, Ed enjoyed campaigning, greeting the public, and stump speaking, but his greatest joy was assisting constituents in need.
Community Servant
Knowing that the backbone of a vibrant community is its commitment to volunteerism, Ed sets the example for others. Ed put the firefighting training he acquired at the US Navy Fleet Training Center, San Diego, CA (one of the best firefighting training programs in the world) to good use in the community. He retired after 21+ years of 24/7 on-call service on the Greenwood Fire Department. Ed worked for the community's economic prosperity as Greenwood Chamber of Commerce's Chair/President. For his work in support of the community's economic growth, the Chamber selected him "2004 Citizen of the Year." He was founding President of the Greenwood Rotary Club and is a Paul Harris Fellow. He served on the Executive Council (VP - Fundraising) Westark Area BSA in support of 6,500 Scouts in 17 counties. He served as a member of the United Way of Fort Smith Board of Directors. Ed currently serves on the Board of Trustees University of the Ozarks, where he established the "LaDonna and Ed Wilkinson Endowed Scholarship." In appreciation of his generous support during construction of the Science Center on campus, the U of O Board named a classroom in his honor.
The City of Greenwood and many organizations have shown their appreciation to Ed for his leadership and service. The City named the pavilion in Bell Park "Senator Ed Wilkinson Community Pavilion" in his honor. The South Sebastian County Boys and Girls Club named Ed "2009 Supporter of the Year." He was awarded "Friend of the Senior Citizen Award" for his many hours of volunteer work and dedication while serving on the Franklin County Senior Citizens Board, the Sebastian Retired Citizens Association Board, and the Westark Area Agency on Aging Board of Directors.
Theologian
Ed was ordained Deacon and Ruling Elder at Central Presbyterian Church, Fort Smith. Later, responding to the call of the "still small voice," Ed became integrally involved in his childhood family church, Good Shepherd Presbyterian in Greenwood. In preparation of the retirement of the church's long-term minister, Ed qualified as a Presbyterian Church's (PCUSA) Commissioned Ruling Elder (CRE) by completing the three-year Arkansas Presbytery Lay Academy and by passing the Presbytery's oral examination. He completed the Lombard Mennonite Peace Center Mediation Skills Training and the PCUSA Moderator training.
Ed volunteers as Good Shepherd's moderator/pastor/Sunday school leader, where he is the 3rd generation of his family to serve as Ruling Elder. He is an active leader in the Presbytery of Arkansas. The Presbytery elected him to serve as a Commissioner to PCUSA 221st General Assembly 2014 in Detroit, Michigan. The following year, the Presbytery of Arkansas elected Ed to serve as its 2015 Moderator. As both Commissioner and as Moderator, Ed was deeply involved in ensuring that the church would become authentically affirming and welcoming to all.

Historian
Ed's life-long study of history and genealogy began during childhood cross-country family vacations when his father would take time to stop at cemeteries and courthouses to record the ancestors' lineage. Ed continued his late father's passion of tracking and documenting his ancestor's roots from the first colonial settlements to the hills of Arkansas Territory. Ed's family settled Arkansas (River Valley) Territory before statehood. He is a 7th generation Arkansan. Pursing a greater understanding of his Presbyterian/Masonic heritage, Ed discovered his family was exiled from France for being followers of church reformer John Calvin, i.e., Huguenots. He became an active member of the Huguenot Society. The membership of the National Huguenot Society elected him to serve as its National Historian General. Ed is Past President Arkansas Huguenot Society and is a member of other genealogical societies, including the Sons of American Revolution.

Author
Ed helped preserve Greenwood's history with his authorship of two books that recorded the history of his beloved family estate, "The Rox," and his family church. In "If These Rocks Could Talk" (about the conversion of the Greenwood School and Normal College into Wilkinson family estate), Ed takes you back to the days when life's simple pleasures were most treasured. In the "History of Good Shepherd Presbyterian Church: The First 100 Years 1853-1953," Ed provides a history of the Church and her members' contributions to the early development of Greenwood, Arkansas.
Freemasonry
An association with the Masonic Fraternity is a family tradition that Ed traced back to lodges in Europe. Ed specified that his decision to pursue acceptance into Freemasonry influenced his life's trajectory. He was accepted into Freemasonry in Greenwood in 1983. He is the 3rd generation of his family to become a Past Master of Greenwood Masonic Lodge. He is Past Master Sebastian Lodge in Fort Smith, Past Patron Greenwood Order of the Easter Star, Past President Fort Smith Shrine Club (Scimitar Shriners), initiate of the Order of the Veiled Prophets (Amrita Grotto), and former Executive Councilman and Wise Master Western Arkansas Scottish Rite Bodies. He was coronated 33rd Degree in Scottish Rite Freemasonry. He is a York Rite Knights Templar and was dubbed Knight of Red Cross of Constantine of Royal Arch Freemasonry. Ed is awardee of the "Legion of Honor" Order of DeMolay.
Licenses
NMLS #745145 (Lender's License); Federal Aviation Administration - Private Pilot (Single Engine Land); National Association of Underwater Instructors (NAUI) Scuba Diver #774482