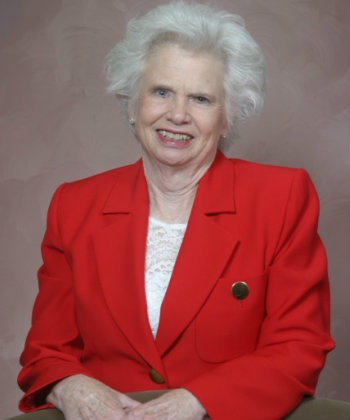 Elizabeth Wilkinson
Chairman of the Board
Elizabeth "Betty" (Forbus) Wilkinson, widow of Means Wilkinson, is chairman of the board of Farmers Bank, as well as the chairman of the Wilkinson Banking Corporation.
Mrs. Wilkinson is of Scottish and Irish descent. Her ancient Scottish Forbes Clan dates back before 1000 in the district of Mar in Aberdeenshire. Mrs. Wilkinson's ancestors settled in the river valley of western Arkansas before statehood. She is a member of several genealogical societies, including the National Society of Colonial Dames of America and the Daughters of the Amercian Revolution.
Growing up on a farm in north Franklin County, Mrs. Wilkinson embraced the values of a hard work ethic at a young age – a work ethic that remains with her today in all of her endeavors. She often says, "I was born and raised on a farm. My parents and grandparents were farmers. I love the farmers. 'Farmers' is one of my favorite words. I use the word 'farmers' as often as I can."
After graduating from Ratcliff High School in Logan County, Mrs. Wilkinson earned a Bachelor of Arts with high honors in only three years from Arkansas Teachers College (now University of Central Arkansas). Immediately out of college, she began her career as a home economics teacher at Hartford High School. After teaching only one year at Hartford, an opportunity opened at Greenwood Public Schools that would change her life forever.
When Miss Elizabeth "Betty" Forbus applied for the home economics teaching position at Greenwood in 1953, the local banker and school board president, Means Wilkinson, interviewed her. She got the job and a lot more. A courtship and romance immediately ensued. Miss Elizabeth "Betty" Forbus and Means Wilkinson were married on June 13, 1954.
Elizabeth "Betty" and Means Wilkinson had four children: Norman, Stanhope, Susan, and Edward. After raising the children, Mrs. Wilkinson began working at Farmers Bank. She quickly learned every aspect of the banking business, working side-by-side with her beloved husband.
As a woman in leadership positions in the male dominated banking industry, Mrs. Wilkinson was a trailblazer. Farmers Bank's board of directors elected her president of the Bank in 1975. In 1991, Mrs. Wilkinson was elected to become the chairman of Farmers Bank. Through the years, she has worked in every area at Farmers Bank, including chairman of the Board of Directors with the bank and the holding company, leadership and corporate governance, compliance, strategic planning, budgeting and risk management. She also held the titles of president and chief executive officer.
Mrs. Wilkinson's success in banking has inspired women and men throughout the state of Arkansas and the country. She continued her education in banking at Southern Methodist University, Southwestern Graduate School of Banking, graduating in 1973. Mrs. Wilkinson was SMU's first woman bank president to complete the prestigious program. She graduated with high honors and her master's thesis received distinction during graduation. Governor David Pryor first appointed Mrs. Wilkinson to the Arkansas State Banking Department. She was re-appointed to the State Bank Board by Governor Frank White. Mrs. Wilkinson was the first woman to serve as chairman of the Arkansas State Banking Department board of directors. Later, Senator Dale Bumpers nominated Mrs. Wilkinson to President Jimmy Carter for the position of Treasurer of the United States.
A true philanthropist, Mrs. Wilkinson is an inductee into the Towers of Old Main at the University of Arkansas for her sustained financial contributions establishing the Farmers Bank Chancellor's Scholarship at the Sam M. Walton College of Business. In addition, a scholarship at the University of Arkansas at Fort Smith bears the name Betty and Means Wilkinson Endowment Scholarship. An adamant supporter of the arts, she supports the Thea Foundation with the Elizabeth "Betty" Wilkinson Creative Writing Scholarship. She is a member of the sisterhood of P.E.O. (Philanthropic Educational Organization) in Fort Smith and is Past Matron of the Greenwood Chapter of the Order of the Eastern Star.
In addition to her corporate expertise and philanthropic causes, Mrs. Wilkinson also provides an incredible record of service to her community. Mrs. Wilkinson received commendations for her work at the William J. Clinton Presidential Library in Little Rock. She served as a Ruling Elder at Central Presbyterian Church in Fort Smith. She remains active in the Friends of the Library in Greenwood.