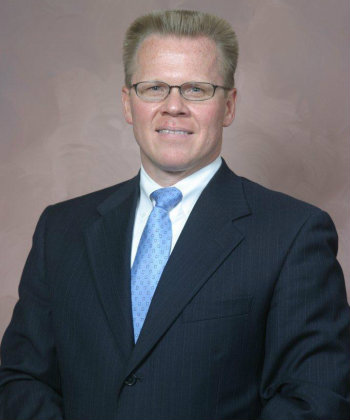 James Edward "Ed" Wilkinson
President, Chief Operating Officer
Dr. James Edward "Ed" Wilkinson is the son of Elizabeth "Betty" Wilkinson and the late Means Wilkinson. He is a 1979 graduate of Greenwood High School where we was selected as "Most Athletic" in who's who his senior year.
Wilkinson has over three decades of executive and board member experience in banking, particularly commercial lending, asset/liability management, strategic planning, and budgeting. Wilkinson began his career at Farmers Bank in 1983. He was elected CEO of Wilkinson Banking Corporation in 1986 and president of Farmers Bank in 1994.
Wilkinson earned a Doctor of Business Administration (DBA) through Walden University, College of Management and Technology. His doctoral study was entitled, "Credit Strategies for Small and Medium-Sized Enterprises in a Changing Environment." He also graduated from the University of Arkansas with a MBA and BSBA, Finance and Banking. Wilkinson continued his education at Southern Methodist University's Southwestern Graduate School of Banking and at Louisiana State University completing the Professional Master of Banking curriculum. In addition, Wilkinson completed an executive education program at John F. Kennedy School of Government at Harvard University.
During Operation Desert Storm, Wilkinson was commissioned as an Ensign into the United States Navy. He qualified at sea as Surface Warfare (Supply Corps) Officer and ashore as Seabee Combat Warfare Specialist. He is a graduate of the U.S. Navy Supply Corps School. He completed the U. S. Marine Corps Expeditionary Warfare Staff Planning curriculum and graduated from the U.S. Air Force Command and Staff College, "The Air University," at Maxwell AFB. In support of the Global War on Terrorism in Iraq and Afghanistan, Wilkinson served as Commanding Officer of a Naval Support Activities detachment in Bahrain. He completed his distinguished military career at the rank of Commander.
Wilkinson was elected to the Arkansas legislature, where he served for sixteen years, the maximum allowed by Arkansas' term limits. He served 8 years as chairman of the powerful Senate Judiciary Committee and 2 years as chairman of the House Banking Committee.
A devout Presbyterian, Wilkinson fills the pulpit most Sundays at Good Shepherd Presbyterian Church and leads the adult Sunday school class. He was the 2015 Moderator of the Presbytery of Arkansas and was elected to serve as a commissioner for the 221st General Assembly of the Presbyterian Church (USA).
Wilkinson's hobby is studying history and genealogy. He continued his late father's passion of tracking and documenting his ancestors' roots from the first colonial settlements to the hills of Arkansas Territory. His family settled in the river valley of Arkansas Territory before statehood. He is a seventh generation Arkansan. Wilkinson serves as the Historian General of the National Huguenot Society.
Wilkinson was named Greenwood's "2004 Citizen of the Year." He is a 33rd degree Scottish Rite Mason, a life member of the Greenwood VFW, and served over 21 years as a volunteer firefighter. He served on the board of the University of Arkansas Alumni Association and is recognized as a "Tower of Old Main" for his sustained financial support of the University. The City of Greenwood named the pavilion in the park "Senator Ed Wilkinson Community Pavilion" in his honor.
Wilkinson and his wife LaDonna have one son, William Daniel Wilkinson, an Honors College graduate from the University of Arkansas and presently a graduate student at Vanderbilt University.
Most recently, Wilkinson authored "If These Rocks Could Talk," a historic account of his family's home, an old rock schoolhouse built in 1891.
Back to Leadership