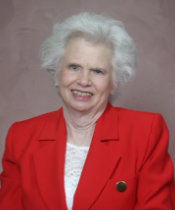 Elizabeth Wilkinson
Chairman of the Board
Elizabeth Wilkinson is chairman of the board of Farmers Bank, as well as the chairman of the Wilkinson Banking Corporation. She was named president of Farmers Bank in 1975 and became the chairman in 1991. She has worked in every area at Farmers Bank. Her areas of responsibility include: chairman of the Board of Directors with the bank and the holding company, leadership and corporate governance, compliance, strategic planning, budgeting and risk management. Her previous titles include president and chief executive officer. Mrs. Wilkinson is also a member of several professional organizations. She was nominated by Senator Dale Bumpers for the U.S. Cabinet position of the Secretary of the Treasury, appointed by Governor David Pryor and re-appointed by Governor Frank White to the Arkansas State Banking Department Board of Directors.
Mrs. Wilkinson earned her bachelor's degree from the University of Central Arkansas, where she graduated with high honors. She then attended the Southwestern Graduate School of Banking at Southern Methodist University, where she was the first woman to graduate from this prestigious curriculum.
In addition to her corporate expertise, Mrs. Wilkinson also provides an incredible record of service to her community. She served as a teacher at Hartford High School and Greenwood High School, an elder at Central Presbyterian Church, and is active in both the Greenwood Chapter of the Eastern Star and the Friends of the Library. She is also currently an active volunteer at the William J. Clinton Presidential Library in Little Rock.
Back to Leadership